Throughout your exploits in Bloodline, you can gain a variety of rewards either by surpassing certain gameplay milestones, engaging in certain activities on a regular basis, or acquiring heroes. This is all kept track of in the TASK menu at the bottom of the screen. Tap on it and you'll be greeted with three categories: Growth Task, Daily Task, and Collections.
Growth Task
Edit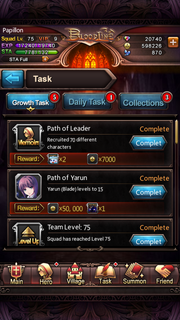 These are goals that are centered on achieving various gameplay milestones, such as reaching a new Squad Level, recruiting a certain number of heroes, joining a guild, winning a Job Change Challenge, and so on. Rewards range from hero fragments to gold and gems to rare crafting materials and job change energy. As you accomplish various Growth Tasks, new tasks will become available.
Daily Task
Edit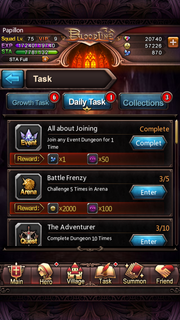 Unlike Growth Tasks, Daily Tasks can be accomplished easily by engaging in various activities in Bloodline every day. For example, clearing the Black Robe Angel stage will achieve the Black Robe Angel Growth Task, which awards 50 gems. The "mealtime" Task, on the other hand, awards you 50 Stamina between the hours of 18:00 and 20:00 every night, 08:00 and 10:00 every morning and 12:00 and 14:00 every afternoon, but only if you log-in to Bloodline and collect it during that window.
Collections
Edit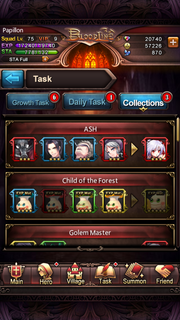 See the
Collections
page for a list
By acquiring specific heroes and completing hero collections, you can be eligible for a powerful hero card through the Collections category. For example, the ASH category consists of Horos,
Owl, Oxi, and Sacred Zinc. Once you have all four of those heroes as specified in their category, you can retrieve a 3-star to 5-star Lilo.I card. 
Heroes you do not own will be greyed out; tap on their icon and then tap on "How to Obtain" to find out where you can get them.
Community content is available under
CC-BY-SA
unless otherwise noted.