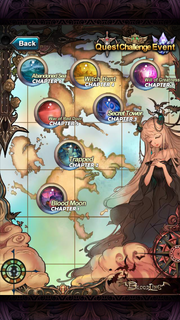 This is where the story of Bloodline can be explored, and the bulk of your gameplay will take place. Currently, the Quest mode consists of seven chapters, not counting a prologue stage which initiates upon playing Bloodline for the first time. Each chapter consists of six to nine plots. Each plot consists of five to seven stages. 
Star Rating and Raid Mode
Upon finishing each stage, your performance will be ranked from 1 to 3 stars. Accumulate enough stars within a chapter and you'll be able to receive up to three tiers of Chapter Achievement Rewards. The rewards can be viewed by tapping "Check Reward" at the bottom of the chapter screen. If you have enough stars for one or more of the rewards, tapping the button will automatically grant them to you.
Additionally, getting a 3-star rating on any stage will allow you to Raid that stage for its rewards without having to fight through it again. Once you tap the Raid button next to the stage's description, you will be given the option to Raid another time, or do it ten times. You can Raid as much as you like until your Squad Stamina (STA) runs out. 
Prologue
This introductory level plays upon loading Bloodline for the first time and contains no rewards.
Chapter 1: Blood Moon
Main article: Blood Moon
Chapter Achievement Rewards
| Stars | Reward |
| --- | --- |
| 45 | 5000 Gold, 50 Gems |
| 90 | 3-StarWater Evo Material, 10x Spirit Blood |
| 108 | 1 Summon Scroll |
Chapter 2: Trapped
Main Article: Trapped
Chapter Achievement Rewards
| Stars | Reward |
| --- | --- |
| 90 | 100,000 Gold, 5-Star Thunder EXP Material |
| 116 | 4-Star Evo Material, 20x Dragon Blood |
| 129 | 1x Summon Scroll |
Chapter 3: Secret Tower
Main Article: Secret Tower
Chapter Achievement Rewards
| Stars | Reward |
| --- | --- |
| 90 | 100,000 Gold, 5-Star Fire EXP Material |
| 113 | 5-Star Dark Evo Material, 20x Dragon Blood |
| 126 | 1x Summon Scroll |
Chapter 4: Witch Hunt
Main Article: Witch Hunt
Chapter Achievement Rewards
| | |
| --- | --- |
| Stars | Reward |
| 100 | 200,000 Gold, 5-Star Earth EXP Material |
| 130 | 20x Royal B. Origin, 20x Divine Blood |
| 144 | 1x Summon Scroll |
Chapter 5: War of Red Door
Main Article: War of Red Door
Chapter Achievement Rewards
| | |
| --- | --- |
| Stars | Reward |
| 115 | 200,000 Gold, 5-Star Water EXP Material |
| 146 | 20x Royal B. Origin, 20x Divine Blood |
| 162 | 1x Summon Scroll |
Chapter 6: Abandoned Sea
Main Article: Abandoned Sea
Chapter Achievement Rewards
| | |
| --- | --- |
| Stars | Reward |
| 100 | 200,000 Gold, 5-Star Light EXP Material |
| 130 | 20x Blood Crystal, 20x Demon Blood |
| 144 | 1x Summon Scroll |
Chapter 7: Will of Greatness
Main Article: Will of Greatness
Chapter Achievement Rewards
| | |
| --- | --- |
| Stars | Reward |
| 100 | 300,000 Gold, 5-Star Dark EXP Material |
| 130 | 30x Blood Crystal, 20x Demon Blood |
| 159 | 1x Summon Scroll |
Chapter 8: Ancient City
Main Article: Ancient City
Chapter Achievement Rewards
| | |
| --- | --- |
| Stars | Reward |
| 100 | 500,000 Gold, 50x Demon Blood |
| 130 | 5x Fetters Treaty, 5x Angel Wings |
| 162 | 3x Summon Scroll |