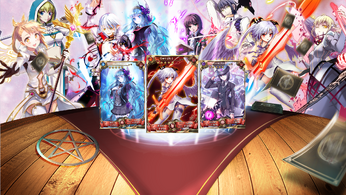 This is a full list of the heroes currently within Bloodline, including their various iterations once they are evolved. You can search for heroes based on their Job Class and Element.
Full List
2nd Wanderer
Apprentice Kai
Apprentice Nado
Beast Flora
Bogeda
Bone Archer
Bone Elite
Bone Marksman
Bone Warrior
Cannon Mermen
Crystal Mouse
Dark Aspect
Dark Element
Dark Elf
Dark Nightmare
Dark Shroom
Daylight Slime
Demonic Box
Divine Shroom
Dragon Tyrant
Earth Aspect
Earth Element
Earth Elf
Electric Shroom
Elite Capra
Evil Ghoul
Evil Trickster
Fiery Shroom
Fiery Slime
Fire Aspect
Fire Element
Fire Elf
Fire Shroom
Flame Shroom
Flame Slime
Forest Shroom
Forest Slime
Gargoyle
Gem Mouse
Ghoul
Grass Shroom
Guard Joe
Gunman
Helldog
Hellhound
Hero Joe
Holy Shroom
HolyLight Slime
Ice Shroom
Ice Slime
Insane Rick
Jewel Mouse
Knight Gunman
Land Raider
Life Shroom
Life Slime
Light Aspect
Light Element
Light Elf
Lightning Shroom
Lightning Slime
Lord Bogeda
Mad Rick
Magic Servant
Night Shroom
Night Slime
Nightmare
Novice Kai
Ocean Shroom
Ocean Slime
One-eyed Box
Pure Shroom
Purity Box
Shadow Shroom
Shadow Slime
Small Gargoyle
Soldier Joe
Sword Clown
Terror Flora
Thunder Aspect
Thunder Element
Thunder Elf
Thunder Slime
Tomato General
Tomato Lord
Tomato Warrior
Two-eyed Box
Unicorn
Wanderer
War Slave
War Unicorn
Warrior Capra
Water Aspect
Water Dragon
Water Element
Water Elf
Water Shroom
White Box
Zap Shroom
Community content is available under
CC-BY-SA
unless otherwise noted.